This is Daves Diary up to November 2003 sent to the webmaster by Email.
Great Year. Great memories
There are so many great memories and highlights, that I will highlight my year at Davis under monthly headings.

NOVEMBER
We left Hobart on a sunny clear day, November 22nd, about 5PM.
It took the "Aurora Australis" 14 days to reach Davis. The trip was not a good one for me, as I was sea sick most of the way. On my previous expedition to Macquarie Is (2001/2002), on the "Aurora", it was the same old story, SEA SICK.
The first iceberg was seen on the 30th November.

DECEMBER[Top]
Still on the voyage to Davis, other great memories, losing my moustache for the first time in 30years to a Camp Quality Fund Raising, a great night.

Red faces night and crossing of the line ceremony -60degS with King Beacon and Queen Neptune.

We arrived at Davis late afternoon on the 5th with heavy overcast skies.
Later that evening, I made my first steps on the sea ice off Davis.
The hectic change over period from the 6th to 9th.
The "Aurora Australis" departs on the 9th for Mawson.
Moving into my room, for the first time, after the old crew departs.
First big blow on the 21st, winds gust up to 60 knots.
My first trip out of Davis base on the 23rd to the ice plateau by helicopter to get some ice for Xmas and New year drinks.
3 of us took a chain saw, ice pick, and crowbar, but the chain saw would not start, so we had to cut up the ice by ice pick and crowbar. I hope everyone enjoyed their drinks for Xmas and New year, because the 3 of us pretty exhausted by the time we loaded the chopper up.
Xmas in Antarctica was a special one, with Mark as Santa Clause.
My secret santa was Malcom. Thanks Malcom for the great framed photo of myself and the "busty girls" 2003 calendar.
Congratulations to Meridith and Gerbil, our two chefs for a great Xmas dinner.
On 27th, chippies Jim and Jiff pull down the old Met Theodolite building to be transported back to Australia for a museum piece.
On New Years eve I came down with the dreaded Davis flu.


JANUARY[Top]
I am feeling very ordinary for the first couple of days of the new year, with this dreaded flu.
On the 13th, boating with Jeremy, Lance, Martin, Curtis, Sam and myself for a iceberg tour, a great evening. Took many pictures of icebergs shapes and sizes.
Only trouble I lost my good sun glasses overboard due to the zodiac boat speeding up, as a large cracking sound came from a nearby iceberg.
On the 15th, navigation in the Vestfold hills, for our field training. Six of us walked by using compass and local terrain to Lake Dingle and back to Davis. We must have covered a good 12 kms.
From the 21st to the 23rd we had our field training. We are taken by helicopters to Trajer Ridge, about a 10 minutes chopper ride. After a briefing, with Chris (Physcho) (Field Training Officer), along with Jim, Curtis, Dave P, Mathew and myself, we took off on quads to Platcha hut via Sprunky van. Everything was going well, until my quad somehow got onto blue ice, so I end up going for the biggest slippery dip ride of my life.
I somehow manage to bring my quad to a standstill, after getting off my quad I slip on the blue ice, hitting my head on the ice, but luckily I am wearing a helmet.
Returning from Platcha, was not much better, I was following Jim, suddenly my quad breaks through the thin ice, luckily Curtis was behind me, so he pulls me out by his quad. Thanks Curtis. We bivvy out for the night by Sprunky van, on the edge of plateau. The strong katabatic wind keeps me awake most of the night in my bivvy bag.
During the night, there are plenty of iceicles forming in my bivvy bag. The next day we return to Trajer Ridge, further training with Mike, (Field Training Officer), such as training in snow and ice techniques (snow climbing, step cutting, descending, using crampons, self arresting, roping up, abseiling, self rescue from crevasses, rescuing the injured, pulley rescue systems, recovery of quads, field radio communications). That night, I share a tent with Jim. He snores most of the night. On the 23rd we pack our tents and gear up. We recover a quad, by using ropes and pullies. Abseiling in the afternoon, great fun. We return to Davis base late afternoon, with a welcome hot shower, Gerbil's hot meals (no one goes hungry in my mess), and a soft warm bed. What a great night sleep.
On the 26th, Australia day. We celebrate with a BBQ at the mechanical workshop. We play cricket, Davis Aussies versus Davis Poms. The Davis Aussies thrashing the Davis Poms, a great day enjoyed by everyone.
On the 29th, another big blow, with wind gusts up to 61kts.
On the last day of the month, Slushy duties, plenty of pots and pans to scrub/clean, and entertainment in Gerbil's kitchen.

FEBRUARY [Top]
On the 1st, I am called out to our medical surgery, (one of my jobs at Davis is a theatre nurse). A Chinese sailor has injured himself, off the coast from Davis. After an examination and xray by our Doctor (Cad), he is medically cleared and released.
Also on the 1st, big dinner party in the mechanical workshop, for Kathleens 21st birthday and end of summer science operations.
On the 7th, "Polar Bird" arrives and commences loading operations.
On the 10th, "Polar Bird" departs and we farewell our summer expeditioners friends and PCMEGA friends.
On the 20th, the Chinese ship "Xue Long" anchored offshore. Our Chinese friends are welcomed by Jeremy our station leader and shown through the different buildings of operations at Davis. On the 21st, the "Xue Long" departs. Also on the 21st, Cathie our Met Tech, releases the first ever Ozone Sonde balloon at Davis.
On the 26th, Cathie, Neil, Cad, Al, Richard, 2 pilots Ward and John, and myself fly by helicopters, up along the ice plateau to help Richard and Al to erect a AWS (automatic weather sensors) and fix another AWS at a nearby location. We then fly onto Zhong Shan, a Chinese base nearby to meet our fellow Chinese expeditioners. The Chinese welcome us with open arms, with a cup of Chinese tea and biscuits. Cathie and I met up with our Meteorology counterparts in Mr Lu, Mr Xu, and Mr Wan. Mr Xu gives us gifts of appreciation. (The Davis Met team of Beacon, Cathie and myself speak to Zhong Shan
daily by telephone to record their weather observations.) We also visit the Russian base,
Progress. On our way home, Ward our helicopter pilot, flies along the beautiful scenic rugged coastline to Davis and gives us a birds eye view of the icebergs, ice cliffs, glaciers, and fjords. A scenic view, I will always remember.
On the 27th, a big blow, with winds up to 71 knots.

MARCH[Top]
On the 2nd, the "Aurora Australis" arrives about 7.30am and departs about 2.00pm with the remaining summer expeditioners. As the "Aurora" slips by the distance icebergs, the realization of us 24 remaining winterers, that we will not see any other humans, until about eight months time.
On the 4th, I celebrate my 55th birthday, thanks Gerbil for the birthday cake. It is my second consecutive birthday with ANARE.
On 15th, St Patricks night celebrations.
On 17th, another big blow, winds up to 74 knots.
On 22nd, celebration dinner for World Meteorology day. I am presented with my 30 years long service award by Beacon and Cathie. What a surprise, thanks guys.
On 26th, medical training exercise all day with Dr Cad, Anaesthetic assistants Cal and Sean, and theatre nurses Jim and myself. (we all attended a 2 week training at Royal Hobart Hospital, late October 2002, for theatre nursing and anaesthectic assistants).
On the 29th, the Adelie penquins are leaving Davis by quite a few numbers. They migrate to the sea edge. The Adelie penquins leave in file formation, follow the leader.

APRIL[Top]
On the 13th, Elephant seals starting to depart Davis, over the sea ice to the open seas.
Cad our resident counter of Elephant seals, said the total maximum number of elephant seals this summer was about 134. They come to Davis to moult, rest, snore and fart.
On the 20th, Davis fishing competition organized by Jim and Sharon. Altogether 15 fish are caught, with Jeremy, our station leader catching 9. I did not catch any, but had a most enjoyable time. Fishing in Antarctica style, drill hole in ice, put line and sinker down through hole, just pray and hope to get a catch. I eventually moved closer to Jeremy, but I still had no luck. I think the secret is a small hook, as I had a big hook on my line. Richard and Tony did well also, with Nanette having the biggest fish story of the day.
All funds went to our dog "Stay"(560K PDF) fund donations.
On the 22nd, after lunch, Richard and I walked to Gardner Island and back. The sea ice is quite solid, but broken thin pieces around the Island.
On the 25th, Anzac day. Held outside the Operations Comms building at 10.00 hours, (dawn) with light snow falling. Flag lowered to half mast by Sean. Introduction and brief address by Jeremy. The ODE for the fallen, read out by me, I felt very emotional. The last post played by Tony, then one minute silence. The flag raised to masthead by Sean.
This is a very special Anzac day for me and I thank everyone for attending. After the ceremony we adjourn to the mess for two up games and drinks.

MAY[Top]
On 2nd , blizzard conditions, winds up to 71 knots. Try to release 2 weather balloons with no luck, both hitting the old station building.
On 7th, Medical team exercise with Jeremy our mock patient with abdominal pains.
I think Jeremy enjoyed being a patient.
On 11th to 13th, Mark, Gil, and myself went on a jolly by quads. We visited Law Cairn,
and Brookes Hut, then via Long Fjord, Pioneer Crossing, and Tryne Fjord to Bandits Hut.
We had a enjoyable evening at Bandits Hut, having rice and stew for dinner, a couple of gins and old baileys, for drinks, and card games. The next morning, we visited Walkabout Rocks and Sir Hubert Wilkins cairn. On our return journey to Davis, crossing over some rafted ice and smooth ice we called into Rookery Lake apple to warm ourselves up with a hot cuppa tea. We arrived back at Davis at around 5pm and discovered I had a double chin with severe frost bite under my chin area.
On 24th, Saturday night dinner theme "Priscilla, Queen of the desert".
On 28th, to sea ice observation with Jim and Richard. We measure the thickness of the sea ice. Took a few photos of icebergs, ice caves and drilling.


JUNE[Top]
On 2nd, to Ace lake with Chad and Nanette, to help with drilling and to carry bottled water samples in a container, back from the lake to the quads. Later in the afternoon, to Jeremy's office for my performance report (EPR). Last day with the sun above the horizon, from 1320hours to 1411hours.
On 3rd, Huggland training with Gil.
On 12th, Theatre nursing practice with Dr Cad.
On 14th, Saturday night dinner theme "Rocky Horror".
On 17th, Volley ball, the girls versus the boys with the girls winning. Oops, I thought Chad was Paula in the girls team.
On 18th and 19th, Blizzard conditions with winds gusts up to 72 knots.
On 21st, Mid Winter dinner celebrations. Entertain by many fine actors in the "Jack and the beanstalk" play, plus individual acts. Great night. Special thank you for Gerbil, our chef, who put on a great feast, to our two waiters in Jim and Jiff, and slushie for the day, Sharon.
On 25th, another blizzard, with winds gusts up to 63 knots.
On 26th, at 6.30am. a live radio cross to ABC Capricornia, re winter in Antarctica.

JULY[Top]
On 5th, and 6th, strong gale force winds up to 69 knots. On the Saturday evening I crawled most of the way from the Met building to SMQ building, not much fun in those conditions.
On 11th, the first day with the sun above the horizon, 1331hrs to 1416hrs. The Davis Masters Golf Classic held. A great day organized by Jim and Jiff. I got a winner in closest shot to the hole, but which hole????
On 18th, Davis cracked the -30degsC mark, for the first time this winter, with temperature down to -30.8degsC at 12.22PM.
On 23rd, Oops, my release of the Ozone Sonde failed, due to the string breaking away from the balloon. Cathie and Paula found the Ozone Sonde box nearby the antenna farm.
On 30th, I am the fill in cook for Gerbil.

AUGUST[Top]
On 1st, Dr Cad removed a growth from the corner of my eye.
On 3rd, Mark, Tony, Gil and I, left for Watts hut after lunch. Arrived at Watts about 3PM. Warmed the hut up, burnt a few holes in my thermals, as I was too close to the heater. Later, walked to Watts bridge. Had veal stew for dinner. In the evening we played my favourite card game, in poker.
On 4th, left Watts about 11.30am, to Sprunky van via Trajer ridge. Sprunky van is situated on the edge of the ice plateau. Gil had to inspect the van, due to the up coming removal of Sprunky van back to Davis. On Trajer ridge, we found it quite difficult at times to ride our quads, due to a couple of narrow ridges with large drop offs, plus a few slots. We arrived back at Watts about 4.30PM.
On 5th, Packed up and left Watts about 11.30am.Visited Crooked lake where Malcom, Cal, Cad, and Beacon had arrived earlier by Huggland to help Malcom in his science project on Crooked lake. Along Crooked lake we went onto Boulder Hill, then back again along Crooked lake to Sorsdal Glacier. We had some difficulty finding a way to Sorsdal Glacier, but with persistence, Gil found a opening via a small frozen rapids, and by a frozen creek (Tierney Ck), onto Chelnok lake, then onto the side of Sorsdal Glacier. It was a spectacular view, but disappointing for taking pictures due to heavy cloud cover.
Back to Davis, arriving 5pm. Total kms by my quad 133kms.
On 13th, recorded the coldest temperature this winter -32.7degs C.
On 16th, on garbage/gas run with Jim for Saturday duties. Jim bogs the ute.
On 18th, My thoughts are with my mates on Vietnam Veterans day.
On 19th, to Pendant lake with Chad and Nanette to help them with their science project.
Had to walk some distance along Highway lake to Pendant lake, using crampons on boots to walk on the ice.
On 20th resupply food for Rookery lake apple and Magnetic Island apple, by Huggland, with Gerbil, and Gil. Between Rookery lake and Magnetic Is, saw a lonely Emperor penquin crossing the sea ice. Also visited a magnificent arch iceberg.
On 23rd, Dinner in Japanese style and karaoke night. A great night, but a sore throat.
On 24th, I'm the fill in chef for Gerbil.
On 26th, Mark and I, went on a iceberg trip by quads. Altogether visited 4 arch icebergs, and 2 jade icebergs. We also came across a few Weddell seals beside their water holes.
Mark and I manage to bog our quads in soft drift snow, but after some hard yakka, we manage to free the quads. The day was sunny and clear, with hardly any breeze.
On 29th, final night for "flying rats" competition in the Green store. Won by Richard, 64 seconds in the air, by his "flying rat". Congratulations to Cal, by putting on, and organizing the "flying rats". We all had a great time, trying to put our "flying rats" together and flying them. With my "flying rat", I was only able to get to the stage by putting it together, then crash!!!!
On 30th, medical practice exercise with Dr Cad, Jim and myself. Also on the 30th, strong gale force winds up to 76knots.

SEPTEMBER [Top]
On 1st, Davis wins the Antarctica AFL tipping contest. The Antarctica scoreboard,
Davis 124, Casey 122 and Mawson 112. Gil wins the Davis AFL tipping contest
from Dave P, and Richard.
On 5th, meeting of participants for the second Rauers trip. Discussed preparation and
duties.
On 6th, Saturday night dinner theme dress up "Under the sea", also trivia night, organized
by Cal and Cathie.
On 9th, Jim and Jiff erected new shelves in our store room in Met building.
On 10th, our expedition photo taken at 3.30pm on the edge of sea ice, nearby the field hut.
On 12th, strong gale force winds up to 65 knots. Manage to release a balloon in 46 knots winds.
On 13th, at Saturday dinner, I presented Gil with trophy, plus drink prize, for winning
the Davis AFL tipping contest. Gil bared his soul to all. Also presented Sharon with
a wooden spoon, and drink prizes to Dave P and Richard. A special thank you for Jim
and Jiff for making the trophies, and Cathie for donating the drinks.
On 15th, the first Rauers trip group left early morning by Hagglunds.
On 18th, medical checkup with Dr Cad.
On 19th, the first Rauers trip group return to Davis. All had a great time, and enjoyed the
spectacular views, and clear and sunny weather.
On 20th, Gil, Mark, and myself left Davis at 5.00pm for Magnetic Island melon. The
weather conditions, heavy overcast skies with strong winds, 20 to 25 knots. We settled in
for the evening , with a healthy meal of stew and rice, a few beers, and card games of
Poker. Cold night with broken sleep in the melon hut.
The Magnetic Island melon will be dismantled and return to Australia. The melon has
been on the island since 1986 for research work on the Adelie penquins.
On 21st, rose from slumber at 9.00am, to a clear and sunny day with calm winds. After a
quick breakfast and pack up, we journeyed along the sea edge to see if there are any
Leopard seals or Emperor penquins. We are disappointed, we do not see any. We return
to Davis about 12.30pm.
On 23rd, meeting for the second Rauers trip at 7.30pm, re planning and set duties.
On 25th, help Gerbil in the afternoon with food preparation plus packing food
for Rauers trip. Roping up practice for ice travel in the evening with Gerbil.
On 28th, preparation for Rauers trip, packing and loading the Hagglunds.
On 29th, Rauers Island trip, with Gerbil, Wicksy, Cad, Mark, Tony, Sharon, Neil,
Paul, Dave P, and myself. We departed Davis by Haggs at 7.06am, after a filling breakfast, prepared and served by Jeremy, Evil, and Beacon. The weather was sunny
and clear with some high cloud. At Breid ramp at 8.40am. At the Russian fuel dump at
10.40am. Plenty of slots, some deep ones. Careful driving over slots. The leading Hagg pulling a sled, with the sled dropping in slightly in one of the slots.
We also found a Met radiosonde at 1.30pm, about 24.6 km from Davis, embedded in the
ice. Neil used his ice pick to remove the radiosonde from the ice.
Refuel the Haggs at top of Rauers ramp at 3.30pm. Arrive at Hop Island at 4.30pm.
Set up camp, unpacked and put up tents. Dinner, variety of stews and boil rice.
In the evening, a few quite refreshments, card games, and good conversations.
On 30th, winds picked up during the night to about 30 knots. Shared a tent with Mark.
Broken sleep with cold feet. Porridge for breakfast cooked by Paul. Left Hop Island
camp site at 11.00am. Arrive at Filla Island at 11.30am to drop off cook box, gas bottle,
and sleeping bags for upcoming summer expedition. Via Winter Over Bay, we journeyed
to edge of plateau, to take pictures of ice cliffs and icebergs. Via Slon Island, back to
camp site at 2.30pm. I had a late lunch, cheese and ham sandwich. In the late afternoon,
the weather deteriorates to visibility less 1000 metres in continuous falling snow.
Dinner, lamb and vegetables stew, refreshments, card games, chess games, and good
conversations.

OCTOBER[Top]
On 1st, awoke to a fine day with high cloud. We left campsite about midday, we journeyed via the Rauers ramp to Macey Peninsular depot. We had trouble finding
the depot with poor visibility, poor definition of horizon and drop offs. At Macey Peninsular depot, we dropped of a food box and a drum of fuel. Back at campsite
late afternoon. Another entertaining evening. Butt Plug!!!!
On 2nd, Sightseeing the Rauers Island group. Took photos of icebergs, ice cliffs, and
the surrounding area. As we journeyed through the area, we was also looking out for a
canister deposited in 1939, by Sir Hubert Wilkins, but we had no luck in finding it.
Back to campsite in the afternoon. Late in the afternoon the weather conditions started
to deteriorate again with blowing and falling snow, winds 30 to 35 knots, with visibility
less 1000 metres. These conditions continued all night.
On 3rd, our departure back to Davis put on hold, due to the poor weather conditions.
The visibility less than 1000 metres with moderate falling snow. Winds averaging
about 30 knots. We could not see the ice plateau. The day was spent lazing around,
sleeping, reading, playing chess plus card games. Gerbil and Paul cooked up some hot scones late in the afternoon. Strong katabatic winds during the night 30 to 40 knots.
On 4th, this morning we could see the ice plateau, with some high cloud. We packed
our gear and tents up. Left campsite at 8.05am. At top of Rauers ramp on the ice plateau
at 9.30am. There was strong katabatic winds and blowing snow, in which made the
refueling of the Haggs difficult. We discovered the red Hagg had a broken coupling,
so we had to leave one of the sleds behind. At the Russian fuel dump at 1.30pm. At
Breid ramp 3.30pm. Arrived at Davis 5.00pm. Unpacked, and after six days, had a
enjoyable hot shower.
On 5th, We are shocked and saddened to hear of the death of Paul Saxby (known to all
as Sax) in a diving accident in Tasmania. He was a good friend to us all at Davis last
summer. When he died, he was training for a winter at Mawson.
On 11th, Saturday night dinner theme German Oktoberfest.
On 13th, to Highway lake with Chad to help with science project. Drilled 1.75m through
the ice to collect water samples from the lake.
On 14th, strong gale force winds to 61 knots.
On 15th, Adelie penquins sighted at Gardner and Magnetic Islands.
On 16th, to the sea ice edge with Jeremy, Paula, and Cathie to check out Adelie penquins,
Emperor penquins, and Weddell seals pups. We saw plenty of Adelie penquins, but
only one Emperor penquin, plus only one Weddell seal pup.
On 22nd, left Davis at about 8.15am with Gil on quads. I am to help Gil with a broken down Hagglund, which broke down yesterday near by Bandits hut. The main problem with the Hagg was a broken water hose, causing overheating. To Bandits hut to pick up
Dave P, and Jiff. We return to Davis via the coastal iceberg route, with Gil and Dave P in the Hagg, and Jiff and myself on the quads. We arrived back at Davis at 3.00PM. Total
kilometers for the whole trip was 75kms.
On 24th, medical check up with Dr Cad. Also on this day, I am given lessons to drive a Mack truck for the upcoming resupply for Davis. My instructor is Gil.
On 25th, 2003 Expedition photo finally taken. More practice driving the Mack truck.
End of winter dinner. We are all presented with Davis Antarctica 2003 year book by our Station leader Jeremy.
On 30th, strong gale force winds to 55 knots.

NOVEMBER03[Top]
On 1st, our isolation came to an end, when a Canadian crew of three, flying a Twin Otto plane landed here at Davis, from Calgary in Canada. The Twin Otto flew down via the Americas coast (North and South), across to Antarctica, via McMurdo base, South Pole
base, Casey base, then on to Davis. The Twin Otto plane will be helping with the upcoming summer program.
On 3rd, the Aurora Australis left Hobart early evening for Davis, for resupply and change over.
On 5th, to Jeremy's office for my performance report.
On 7th, this day, I have been informed that I have been officially offered a position wintering at Casey station, Antarctica, departing voyage 7, ex Hobart 16th February 2004. Back to back winters in Antarctica are very rare. This unusual situation was due to successful applicants (3 altogether), pulling out from the Casey job, leaving no time for interviews for other applicants or plus training.
On 11th, Rememberence Day. One minute silence at the flag poles with snow showers falling.
On 12th, left Davis at 11.30am with Jim, for Sea ice observation. We measure the thickness of the seas ice. On our return to Davis, we called in to Gardner Island rookery,
to check out the Adelie penquins nesting. Also on this day, the second of Twin Otto planes arrived at Davis from Canada for our summer program.
On 13th, driving Mack truck, dropping off empty containers on edge of sea ice in preparation for the arrival of the Aurora Australis.
On 16th, fill in chef for Gerbil for the day. The Aurora Australis arrived at Davis,
at 2.00pm. Visited the Aurora Australis in the evening.
On 17th, driving Mack truck for resupply. Total hours driving 6 hours 35 minutes.
On 18th, driving Mack truck for resupply. Total hours driving 13 hours.
On 19th, driving Mack truck for resupply. Total hours driving 7 hours. Moderate to heavy
blowing snow, caused difficult conditions to drive in.
On 20th, tourist ship the KK arrived at Davis, at 1.30pm. I packed in the evening.
On 21st, change over ceremony at midday. We depart Davis at 2.00pm on the
Aurora Australis. We sail to Zhong Shan, a Chinese base, but the Aurora Australis
only manages to get within 18nm from Zhong Shan, due to thick ice pack.
On 22nd, the Aurora Australis commenced resupply operations to Zhong Shan by
two helicopters.
On 23rd, resupply to Zhong Shan continued. After completion of resupply, we depart
for Australia at 4.30pm.
On 24th, we continue our travels northwards, with the Aurora Australis crushing through
the sea ice pack.
On 25th, late in the evening the Aurora Austalis finally leaves the sea ice pack and enters the open sea.
On 26th, we are in the open seas. We see the odd iceberg in the morning, but by the evening, no icebergs are seen, so we have left Antarctica well behind.
On 27th, heading in a Northeast direction at 14 knots. Overcast with slight snow falling. Temperature minus two degrees, it seems to be getting a little warmer.
On 28th, our position -49.18S, 97.31E. Current speed 14.6 knots. Temperature a positive four degrees. Cloudy at times with snow showers.
On 29th, our position -44.49S, 102.33E. Current speed 10.5 knots. Temperature a positive
eight degrees. Cloudy conditions.
On 30th, our position -41.50S, 105.59E. Current speed 9.1 knots. Temperature a positive
eleven degrees. Overcast conditions.

DECEMBER03[Top]
On 1st, our position -38.51S, 108.54E. Current speed 10 knots. Temperature a positive
sixteen degrees. Early morning drizzle, plus overcast conditions.
On 2nd, our position -35.50S, 111.49E. Current speed 9.4 knots. Temperature sixteen
degrees. Sunny conditions. I am working on the bridge today, doing Meteorology observations.
On 3rd, our position -33.07S, 114.29E. Current speed 7.8 knots. Temperature seventeen
degrees. Sunny conditions. I went out on the deck this afternoon. We are about 100 Nm
from the West Australian coast line. We are welcomed home by the Australian bush flies.
I knew then, I am nearly home. A bbq in the evening on the heli deck.
On 4th, stationary in the morning, just off between Rottnest Island, and the main land.
I can see Scarborough beach in the distance, Perth tall buildings, and about half a dozen
container ships waiting to dock at Fremantle wharf terminal. The pilot arrives at 1.00pm
to manoeuvre the Aurora Australis into dock. At the wharf at 2.00pm. Customs and Quarantine checks. The temperature in Perth, a hot 33 degsC. My older brother Gerald, greets me at the wharf. I stay the night with Gerald and Rene place. A bbq in the evening.
On 5th, depart Perth at 12.25pm (WA time). Arrive in Brisbane 6.55pm. Depart Brisbane
7.45pm. Arrive Rockhampton 8.45pm. Met at airport by family, Debbie, Michelle, and David. Arrive at Yeppoon at 9.45pm. Home sweet home.
END OF 56TH ANARE EXPEDITION
Roll your mouse over the images, if the hand appears a second image will load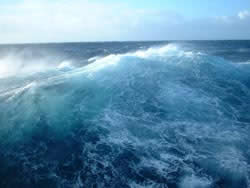 Heavy seas on the trip down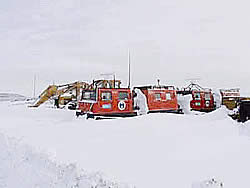 Huggland buried in snow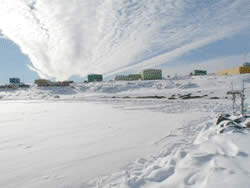 Davis Base
Dave on his Quad
Sarsdal Glacier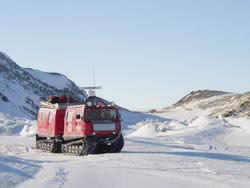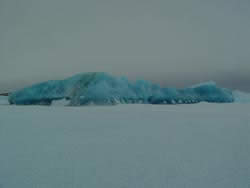 Jade Berg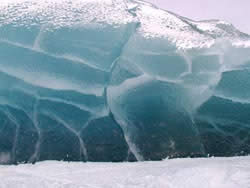 Jade Berg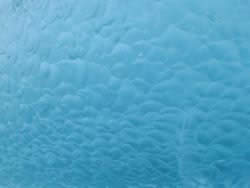 Jade Cobble
Snoopy 2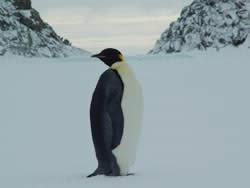 Emperor penquins at Rauers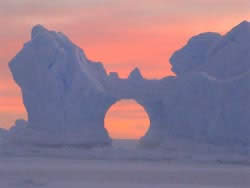 Sunset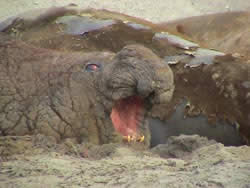 Elephant seal
Dave ice fishing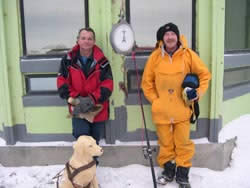 Fishing weigh in
Stay
Winter Training
Dave Camping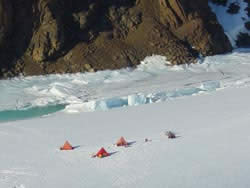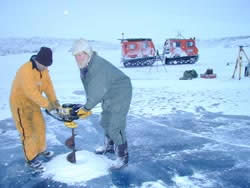 Ice Testing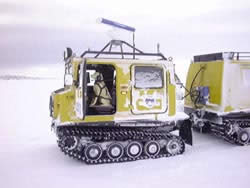 Stay waites for a ride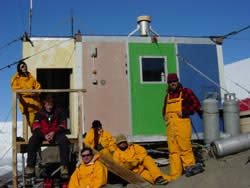 Field Group Platcha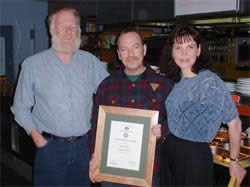 Met Awards Night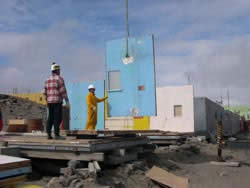 Removing the old Met office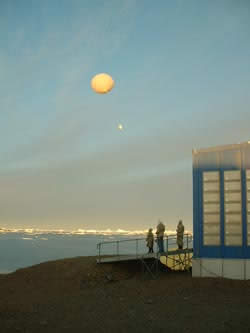 Balloon up to test Ozone layer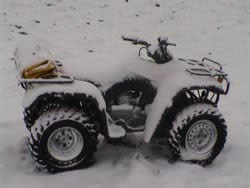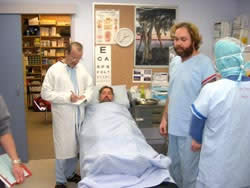 Nurse Dave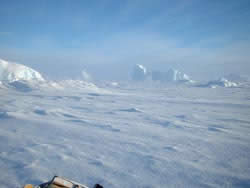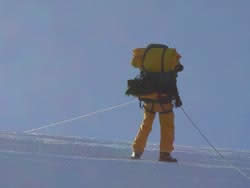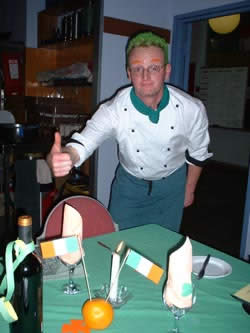 Gerbil St Patrics Day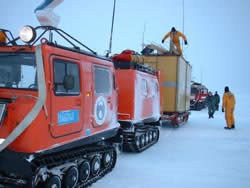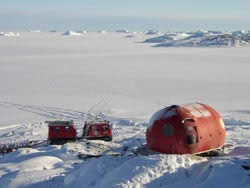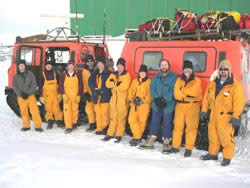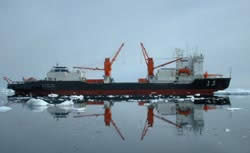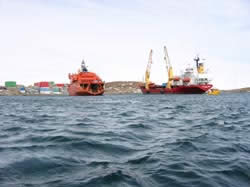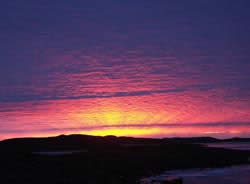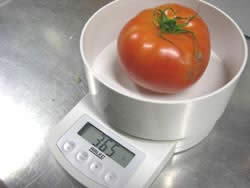 Home Grown tomatoe